So Much Fun on Saturday ...
Saturday morning we had a great surprise when Grandma and Grandpa Kerby came for a visit! Actually, we knew they were coming, but it's always a great surprise to have visitors ... especially for Hayden, because he loves his grandma's and grandpa's! The guys "manned the fort" while mom and I went to a craft fair that one of the local schools sponsors called "Buttons and Bows." After an hour or so of pushing through crowds of bargain/craft-hungry females we called it a day and came home! Lunch had been warming in the slow-cooker all morning, so David, Dad, and Hayden, who'd been working (and playing) out in the yard were definitely thankful for the warm stew. We had a fun afternoon of talking and watching football ... and a quick trip to Hobby Lobby (mom hadn't seen the new Manhattan store yet!). After a full day of playing and cuddling with Grandma and Grandpa Kerby, Hayden was pretty tired, and fell asleep long before his bedtime! :)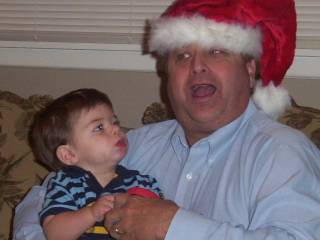 Oh yeah ... we got the Christmas decorations out last night, and have finished putting them up ... except for the tree, of course, which we'll get after Thanksgiving. Grandpa and Hayden had lots of fun with Santa's hat!
This is the first thing you'll see when you come to the Kinnan home ... hopefully the second thing will be a big smile and then an even bigger hug! We got this wreath at a garage sale this summer, then I spent awhile wrestling the ribbon around it last night. Simplicity was what I was going for ... but I'm not good with ribbons, so it was anything but simple. Anyway, it's done and so we're happy!
This is the top of our entertainment center. Underneath is a shelf with one of our two manger scenes we'll have around the house.
And finally, our fireplace and mantle. This is my favorite part of decorating for the holiday season, because I love, love, love having the lights on and the fire burning ... so cozy and such a beautiful reminder of all of the blessings and provisions that we are undeserving of, but given because of His love.
Confessions of a Married Couple ...
Ok ... so we went to Mark and Becky's on Thursday night to watch cable (which we do not have) and hang out ... instead, we watched a movie they had rented, and feel that we should tell all of you whom we love. Go easy on us ... please do not judge ... no smirks or chuckles ... WE WATCHED "MEAN GIRLS" ... yes, the teenage drama about a new girl in school who has to deal with the evilness of her female peers ... sounds corny, sounds ... um, a little cheesy for a married couple in their 20's to watch, but we actually liked it. Despite the overnumbered instances of foul language, the movie was decent. We are ashamed. Forgive us. :)
Thanksgiving Countdown:
9 Days until we Leave
12 Days until Thanksgiving
We Love You!
KK
The joy of the Lord is my strength!
Nehemiah 8:10