In the late afternoon hours of Friday, May 27, we set out on our first "mini-vacation" in months! We had a wonderful weekend and enjoyed every second with our families!
Our first family picture in months!
Grandma and Grandpa Kinnan got this slide for Ailee and Hayden ... they played forever on it and had a great time!
So ... Ailee and Hayden had lots of fun, especially when they were playing "follow the leader." This little game seemed to involve one of them doing something silly and the other joining it. From squaking to crawling, they wore themselves out quickly!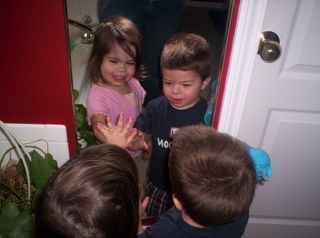 After an afternoon of play, they came into the house to get a drink and to cool off ... and of course, to look in the mirror and have a deep conversation about who was looking at them!
I thought sweet little Ailee with her precious pigtails couldn't get any cuter, but her mommy (Heather) painted her nails ... adorable! We had so much fun with her and enjoyed listening to her talk to us ... her vocabulary is growing and she's so smart ... and growing up so fast!
More pictures to come!
We Love You!
Kate