Last Monday we arrived at our vacation destination: Lake Latawana, MO! After a weekend in Kansas City preparing for the trip, we got to finally relax and enjoy ourselves! There were many great qualities about this particular area and lake house that David can tell you about, but my personal favorite part of the locale was the Target we saw on the way there. (NO vacation is complete without a trip to Target!) :)
This was the place...our lake house for the entire week. A member of mom and dad's church generously offered it to us for the week, and what a wonderful place to relax and be refreshed! We didn't spend anytime in an office. We didn't do any lawn work. There were no concerns for a week!
Not only did we have a FREE lake house for the week. Unlimited usage of a ski boat...
and a pontoon boat were made available for our family...ABSOLUTELY FREE!
Someone should write a book entitled "The Art of Tubing" because I just don't have it mastered. Do you put your weight into the turn or away from it? Do you sit on your knees or your belly? Do you validate your health insurance before or on the way to the ER? Okay, it didn't get to that point...actually, we had a ton of fun! Hayden even took a ride with daddy as the boat went the "little boy speed".
As for the pontoon boat, Hayden didn't enjoy his first ride. It was about 90 degrees and the life-jacket essentially covered his entire body. So, there weren't a lot of smiles coming from his little mouth.
However...with some new shades...and a different boat (ski boat), Hayden found his zone! This is also Hayden "post-hair-cut" ... David played barber and gave Hayden this great new "do"! He looks like such a little boy ... he's growing up so fast!
Dinner is always a joyous time in the Kinnan household, especially when Cousin Ailee (I-lee) is there to join us! They had a great time playing during the week, and I'm sure there will be some adjusting to play time without her.
Bedtime isn't "right" without a good story from Grandma Kinnan. Those pictures must have been very interesting.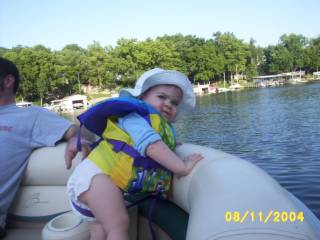 Ailee was more of a fan for the pontoon boat...actually...she was more interested in experiencing the water below. Uncle Jeff spent a lot of time "discouraging" Ailee from jumping in.
Our vacation was incredible...especially the price. Total cost: $42 (gas and food to and from lake house)
Now, I'm experiencing "post-vacation" depression as the responsibilty of returning to work just doesn't excite me. Just one more week on the water would've been nice.
Oh well...we're all rejuvinated and ready to go.
I'm getting ordained this next Sunday on July 25th! Before leaving the ministry, I don't believe an ordination would have meant as much as it will next week. Now that I'm back...I'll value it's purpose. It's been a great journey so far...what lies ahead only brings excitement to mind!
Burnt to a crisp (too manly for sunscreen),
DK and KK
(More pictures on the way!)