Friday:
Katy, Hayden and I followed through with a our Friday Family Tradition: Pizza and a Movie. Now, we didn't actually watch a "movie", but that's not the point. We took a ride in the car to Topeka (50 minutes away) to exchange some of Hayden's birthday clothes. He'd received a bunch of summer digs...and with winter on the way...we got him some pimped out warm-up suits and outfits. Seriously...the women are flocking as we speak.
We made it back and decided to go with the new cheesey pizza thing from Domino's...that'll be the last time for that. Don't get it.
Saturday:
I woke up to a king's breakfast. Katy had prepared her special scrambled eggs, sausage, and french toast. By the time I finished, I was ready for a nap. I resisited.
Early in the evening, we popped in Extreme Makeover: Home Edition. A family in our church had taped the first two episodes and since we're rarely back from church during the show...this was a treat for us. We balled our faces off. Incredible...it must be so fulfilling to meet an exact need of another person...especially when the person has no means to meet their own need.
As the evening progressed...the KU vs. KSU football game began. KU has lost the last 11 meetings between the two teams. I made a wager with a guy in our church agreeing that whoever's team won, the other had to wear the "other team's" hat all week. We (KU) won! My good buddy, Lenny, is sporting a KU hat!
Sunday:
From 11 am to 2 pm, our church participated in our second "attraction event". Essentially, we're trying to get our name out so we set camp at Wal-mart and passed out free hot dogs, chips, and pop for free! It was incredible. We have apprx. 150-200 response cards filled out!
Almost everyone in our church helped with the event:
We cooked up some dogs...
Made some signs...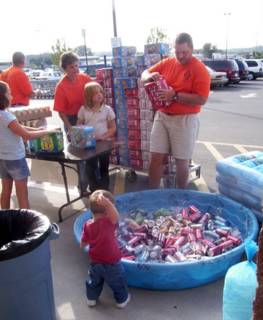 Chilled the pop...
Prayed, Prayed, and Prayed some more...
Talked to people...
And talked some more.
It was a great event. We enjoyed it, and we were challenged to move beyond our comfort zones. Now...we've got some major follow up to do!
Now:
Katy and Hayden went off to visit her parents for the next couple of days while Katy is on Fall Break. Davey, Daddy, or David...whatever your choice is...is at home missing his family.
I bet football is on! See ya!
-DK